• decor • fall decor • fall wreaths • farmhouse decor • front porch decor • halloween • halloween decorations • holiday decorations • home and garden • home decor • home decoration • interior decorating • interior decoration • living room decor • Natural Home • outdoor fall decor • pumpkin decor • room decor • room decoration • season change • seasonal decorations • throw pillows • wall art • wall decor • wreath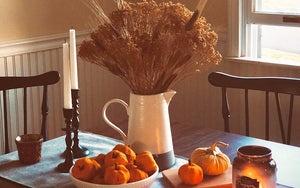 Celebrate Halloween with unique front porch decor, and continue your fall interior decorating theme with seasonal decorations throughout your home. Add comfort and warmth to your eco friendly natural home with a fall wreath, pumpkin decor, soft pillows and rustic wooden furniture for the feel of a country farmhouse. 
---
Why give a one off flower arrangement to a friend or loved one when you can give them 
cheerful garden accents to boost their mood
? Gardening is said to be one of the most rewarding activities a person can do.
---
Creating an English inspired botanical fairy garden in an outdoor space, and tending it with love, is an aesthetic tradition that has been around for hundreds of years.  The people of 13th century England repeated the stories that came down through the ages, and believed that fairies were spirits that dwelled in nature who kept a garden space safe from evil. 
---
Rudyard Kipling was a Victorian author who honored nature and the native culture of India with his "new" way of cultivating the art of storytelling. He was an English imperialist who even made the Hindus smile.
---
Maria Montessori was a female physician and educator who is most famous for her child-centered education approach known as the
Montessori Method of education. 
Her approach was largely based on scientific observation of children and has been used for over 100 years in education systems around the world.